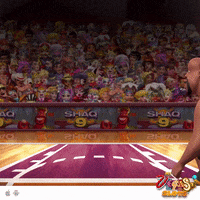 I realize that the post title ($40 and Free Borgata Nights) sounds good to be true, but stay with me until the end and I promise we'll get there. As someone who loves to gamble but doesn't love to lose, earning free stuff is the best way to offset my (meager) gambling budget. Ready to earn some cash and stay at one of the best hotels in Atlantic City for free? Here we go.
Step 1: Sign Up for Swagbucks (Free)
Swagbucks (This is a signup link and will give us a small referral bonus) is a rewards site that serves as a shopping/deal portal. Advertisers put their offers on the site, Swagbucks gets their cut, and offers you a reward for shopping, playing games, etc. I've personally redeemed thousands of dollars worth of rewards (No, not with referrals but by shopping/deals) on Swagbucks and can happily confirm that they're legitimate. One of the more popular offers is the app MyVegas, which allows you to play slot games and earn points for hotel stays in Las Vegas and, yes, Atlantic City. Signing up will allow you take advantage of these offers!
Step 2: Use the MyVegas Offer and Download the App
MyVegas is an app that has officially partnered with MGM. You can view our full guide here, but if you signup for MyVegas through Swagbucks, you can earn $40 USD (4,000 Swagbucks) just for playing the game. You earn your rewards and you earn the cash, so there really isn't any downside. Note that you'll need to play consistently at first, which we'll get to in the next step below.
Step 3: Reach Level 135 In 7 Days
Here is the most difficult task that awaits you, though it shouldn't be too bad for most. Play consistently each day and gather XP (Be sure to send chips to friends and follow MyVegas on Facebook for extra chips). I was able to do this in about 5 days of consistent slot play. Once you reach level 135, you should see your 4,000 Swagbucks pending in your account. This will take 14 days to "settle," but once done you are able to redeem those bucks for gift cards or directly to your Paypal account as cash monies.
There you have it! A quick and easy way to earn comps for the Borgata and a decent chunk of beer money in the process. If you run into any trouble during the process above, be sure to reach out to Swagbucks' support team with any questions or concerns.