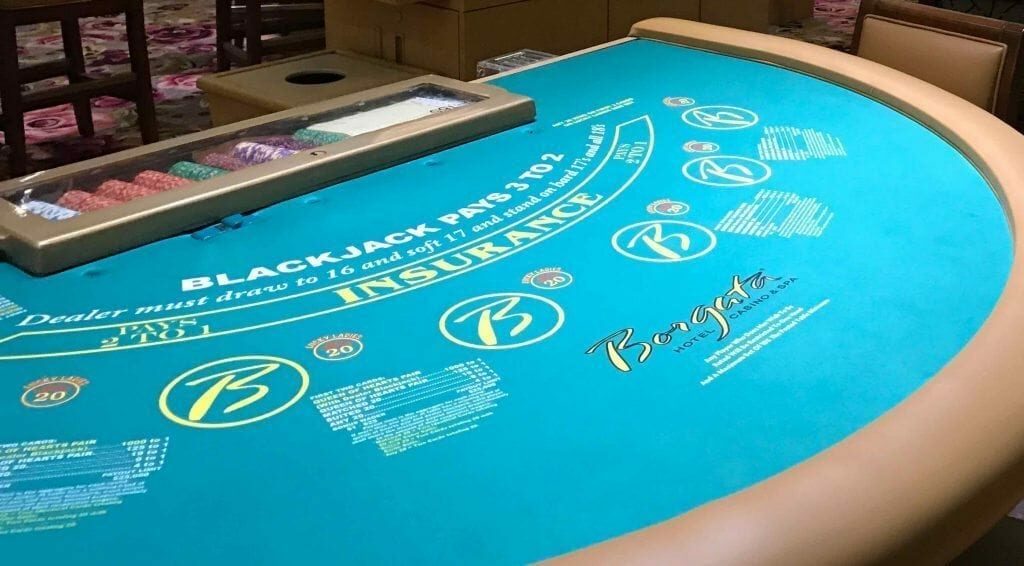 Blackjack isn't exactly known as the most affordable table game out there. It's a quick game, for better or for worse, so unless you're bringing hundreds of dollars to the table, even at lower minimums, it's possible to get wiped out quickly if you hit a cold streak. Still, you have a few options when it comes to cheap Blackjack. There's the five dollar tables at Wild Wild West, for example, but Blackjack there pays 6:5, putting you at a significant disadvantage. If you're a player in Pennsylvania, you can also play online for even lower table minimums. So, what's a guy or gal to do? Not to worry friends, the Borgata has you covered with a $5 table that's always running. Weekdays, weekends, and holidays. Still, there are some caveats to keep in mind.

Quick Update (06/13/2021): We recently visited the Borgata on a weekend trip and the $5 table was not there. We've reached out to the Borgata to confirm if it is returning.
It's Packed on the Weekends
I don't often visit Atlantic City on the weekends, but I have been to Borgata on a few occasions. Shockingly, the five dollar table will still be there, but getting to actually play on it will be another matter. The table fills up quickly, even in the afternoon, and once night falls, you'll probably notice a few people hanging out nearby, hoping to snag a seat. Worse, the people that are actually at the table know that once they get up, they're done with it for the night, so they tend to stick around. Keep this in mind if you're hoping to score some cheap Blackjack on a Saturday.
It Has Surprisingly Good Odds
Unlike tables here in Pennsylvania, where state law requires that certain odds be offered at table games, playing at cheaper tables often means a trade off in your playing advantage vs. the house. Playing at a table that pays 3:2 for Blackjack instead of 6:5 can make a significant difference in your wins/losses over a long period of time (You can find a calculator to find out how what these numbers mean and how they affect you here). Interestingly enough, Borgata's cheapest tables play by the same rules as their higher ones, so you'll have a much better shot at leaving with more money in your pocket.
Where to Find It
The $5 table can be found along the same line as "normally' priced Blackjack tables. Walk to the end of the row, near the night club (Premier). It'll be the second to last table near the Big Wheel.
So there you have it. Finding live five dollar Blackjack is incredibly rare in Atlantic CIty, and it's the only table at that level that will pay 6:5. Certainly worth looking into.