When it comes to the best bar venues for sitting down with some friends and relaxing, the Borgata has no shortage of options. Many have a particular theme to focus on such as live entertainment, sports betting, or just having a nice view of the surrounding casino floor. Our Long Bar Borgata review takes a look at this rather unassuming little hole in the wall to find out if it's worth your time or if you should move on to more exciting locales. Here we go!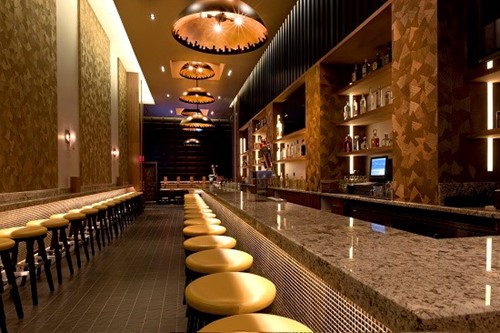 Earn $40 USD and Free Nights At the Borgata With BetMGM's Official Partner: MyVegas
Ambiance
Long Bar's layout is small and narrow, so it can look a bit intimidating at first glance if there are plenty of patrons inside. If you have a large group with you, I'd steer clear of this one for that reason alone. Still, the smaller dimensions give it a more cozy feeling than some of the other larger, more sprawling venues that the Borgata offers.

Drink Selection
Long bar has a passable amount of drinks available, though certainly not as extensive as we like to see. Their menu contains about 12 cocktails with a bend towards the classics (Rob Roy stands out as an example). Their beer selection is decidedly sub-par, the best of which is Cape May's Coastal Evacuation (Which runs at a steep premium of $10 USD). Wines are available as well, though I can't speak to the quality as it isn't our drink of choice.
Food Selection
Long Bar provides a number of snacky, pub-type appetizers on their menu, so don't expect to grab dinner here. We have stopped in here for a quick bite before and found the pretzels to be good, though the sliders were nothing impressive, especially considering the cost ($20 USD). You can take a look at the full menu here.

Full Review Summary
While Long Bar is nicely tucked away and often flies under the radar at the Borgata (Which I like), it rarely comes up as a first choice when we visit. If the other bars are packed and Long Bar has some seats available, then have at it. Otherwise, I think you can safely skip this one.