As a light gambler, I normally stick to the "classic" versions of games when it come to Blackjack and Craps, but there are always exceptions to the rule. I recently discovered a fun variant that I enjoy, Double Attack Blackjack, which I did a write up on here. Today I'm here to write about another popular variant, Blackjack Switch, and run down where you can find the game to play in Atlantic City.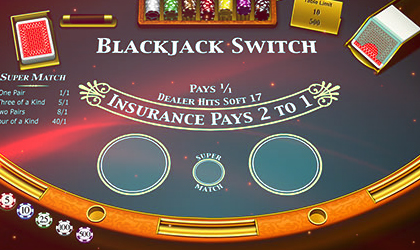 How to Play
I won't go into too much detail on how to play Blackjack Switch, as you can find a more in-depth guide here. In short, the game plays just like normal Blackjack, with the key exception being that you are dealt two hands instead of 1. Once dealt, the player has the option of switching the second card dealt to each hand. This gives you the feeling of having a little more control over the outcome of the game. Another key difference is that a dealer of total 22 will result in a push rather than a win for the player.
Where to Play Blackjack Switch in Atlantic City
Blackjack Switch was originally introduced to Atlantic City in 2009, but there are a variety of casinos that currently offer this variant. The full list can be found below:
I have not been to the Borgata since the Pandemic, but I'll have to see if they're currently offering this the next time I'm in town.
Blackjack Switch Minimums in Atlantic City
These minimums will have undoubtedly change with the onset of COVID-19, but during my last visit I saw the table minimums for this game range from $10-$25, with the higher minimums being found at Caesar's and the cheapest tables being found at Harrah's.