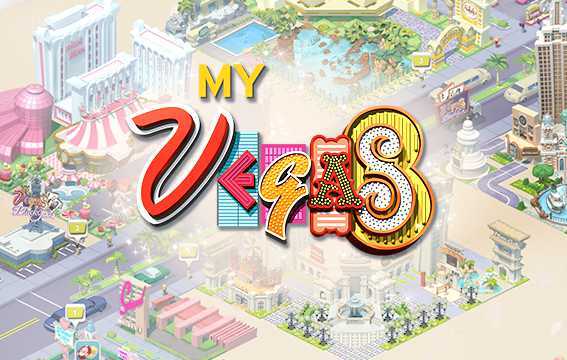 The phrase "There's no such thing as a free lunch" is particularly applicable when it comes to gambling. Under normal circumstances, you need to take greater risks in order to earn outsized rewards (or losses). As a frugal gambler, it can be difficult to hit the right balance between entertainment and value. Thankfully, there is a way that you can earn free rewards like complimentary hotel stays, match play, free slot play, drinks, and dining credits without ever spending a dollar of your own money. How? The Facebook game/mobile app MyVegas.
How MyVegas Works

The company that runs MyVegas (Playstudios) created the game in an effort to get people to buy virtual chips in their online casino. They partnered with the huge gambling conglomerate, MGM, to offer up rewards at their casinos to entice MyVegas players into doing so. It seems like a bit of a win-win, since Playstudios gets their revenue from virtual chip purchases, and MGM gets players in the door at their properties. As a player, however, this arrangement can benefit you as well. The reason? You never actually have to buy anything to earn rewards. If you plan ahead and you're patient, you can get a huge amount of value and use your rewards at arguably the best casino in Atlantic City: The Borgata.
Where To Start


MyVegas is free to play, and you can play the Facebook version here or, alternatively, you can download the MyVegas App to your mobile device via the Google Play Store or on Apple. There are also some additional apps as well which include MyVegas Blackjack, Pop Slots, and Konami Slots. Note that your loyalty points will synchronize across every game, so if you run out of chips to play on one app, you can move to another. I use this strategy so that I don't have to purchase chips to great effect, and it helps to earn Loyalty Points Faster.
Earning Loyalty Points


In case you're wondering why loyalty points matter, let me tell you: Loyalty points are what you redeem to get the rewards I described in my introduction (Hotel comps, free slot play, etc.). The more points you have, the more rewards you're able to get (some limitations apply, which I'll describe below). You earn loyalty points simply by playing any of the MyVegas Facebook games/apps. The higher your wager in virtual chips, the quicker you'll earn Loyalty Points.
Basic MyVegas Strategy For Earning
As a basic strategy, you should login to the Facebook game and each app to earn your daily chips (you earn an extra chip bonus for logging in on consecutive days). You can then choose the game of your choice, play your chips down, then rinse and repeat until you've exhausted all of your options. Using this strategy, you should be able to generate at least a few thousand loyalty points per day. Once you've amassed enough loyalty, you're ready to spend them! Listed below are the rewards that are currently available.
Spending Loyalty Points: Available Rewards

While you have a plethora of options to choose from when it comes to redeeming awards in Las Vegas, you'll have one option in Atlantic City. Thankfully, these rewards are at the Borgata, which is arguably the best choice for a stay in AC. Note that these rewards do change from time to time and availability can vary by season. You'll also need an active "Mlife" account, which is MGM's rewards program. Keep in mind that you can only redeem 3 rewards in a given time period (Usually 60 days). Here are your reward options at present:
Full MyVegas Reward List
$10 Slot Dollars
This is a great option for a cheap gambler like myself who doesn't play slots often. After redemption, they will load $10 onto your Mlife rewards account.
$25 Match Play
If you're not familiar, match play works like this: The casino will give you a slip of paper which allows you to make a "2 for 1" bet at most table games. For this match play, you'll need to bet $25 of your own money. If you win, the casino will pay you as if it were a $50 bet instead. Not bad, right?!
2 Free Comedy Tickets
I can't comment on the quality of the shows, but this rewards entitles you to 2 complimentary club tickets.
2 For 1 Sandwich
At Borgata's casual restaurant "Bread and Butter," you'll be able to buy 2 sandiwches for the price of one.
1 Complimentary Beverage
This entitles you to a free alcoholic beverage at Borgata Long Bar, B Bar, or Gypsy Bar. IMPORTANT NOTE: I've ran into all sorts of confusion and trouble trying to redeem this at Long Bar. My recommendation is to use this at "B Bar" instead, as the bartenders there seem to understand how it actually works.
$25 to Fine Dining
This is a free $25 credit to your bill at any of Borgata's more upscale restaurants. My favorite way to use this reward is at Izakaya, which is Japanese fare. Sit at the bar and order some apps and a drink if you don't want to break the bank with a large dinner tab.
Comp Room One Night (Monday Through Thursday)
This is a very seasonal option, so don't expect to see this one in the Summer. That said, this is unquestionably the most valuable standalone reward, even if you do have to go during the week to redeem it.
How to redeem MyVegas rewards in Atlantic City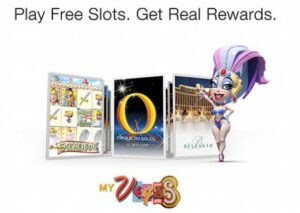 Once you've redeemed your rewards in the MyVegas app, you can head over to the Mlife rewards desk at the Borgata. They'll load any applicable awards onto your Mlife card. Note that for the complimentary hotel stay, you'll have to call the phone number listed after redemption to take advantage of that offer.
There you have it! A full summary of what MyVegas has to offer for Atlantic City players. If you have any questions or want to let me know how your experience was in using these rewards, let me know! Please add your feedback to the comments section.