I'm generally not a fan of table game variants like Double Attack Blackjack as we normally stick to games that we know and enjoy like craps. The reason being that most "newer" table games tend to have more of an advantage to the casino. Still, I did stumble across an interesting version of Blackjack which I'll admit that I only played because it was a $5 minimum at the time.
Play Online Casino Games (For Free) and earn $50 through MGM's Official MGM Slots App!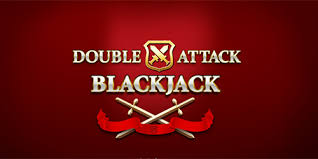 What is Double Attack Blackjack?
I won't go into too much detail on how the game differs as you can read a much better guide on how to play here. The biggest difference between Double Attack and a normal Blackjack game is that you are able to double or surrender at any time. In exchange, Blackjack only pays even money.
It's a fun Blackjack variant that appears to have fallen in popularity over the years, but it isn't gone just yet.
Where to Play
According to the Wizard of Odds article, the game could be found in roughly half of the casinos in Atlantic City as of 2010. Times have changed, though. I've poked around the newest casinos, but I've only found one remaining table located at the Tropicana. There is one table near the Baccarat and Pai Gow Poker tables.
Double Attack Blackjack Table Minimums
I may have never played a game of this variant if it wasn't for the low minimums. On weeknights in the off season, I've seen the table run at $5 per hand, which is a rare find (The only live $5 blackjack table that I've found outside of the Borgata, in fact). On the weekends, minimums will vary. I've seen it stick around $10, though it will also go as high as $15 per hand during prime time.

So there you have it! The game may seem a bit archaic, but it's worth sitting down for a few hand (Especially if you can manage it for $5).