I've always been a frugal gambler. This means that I'm always on the lookout for ways to play my favorite table games (Craps definitely tops that list) on the cheap. While I generally don't care for electronic versions of games like blackjack and roulette, the automated machine-played version of craps adds just enough realism to keep things interesting. Bubble craps is also a great way for a new player to get comfortable with the game without the pressure of playing at a live table. Recently, bubble craps has made its way to Atlantic City, so get your dice shooting button ready.
Play Online Casino Games (For Free) and earn $50 through MGM's Official MGM Slots App!

What is Bubble Craps?
From my trips to Las Vegas in recent years, there are a variety of electronic versions of craps. All of them revolve around a central plastic dome, or "bubble," which contain the dice that players get to shoot. It doesn't convey the same sense of camaraderie that you'll see at a live table, but it's still great fun. It also has the distinct advantage of being very low minimums.
At its core, the game runs just like a regular craps table. You'll sit at an electronic terminal that allows for all of the same bets as its live counterpart. If you're not sure about the win conditions of a bet, there is an information button that you can press to display the rules, odds, etc. This makes for a great educational experience if you're trying to bring someone new into the game.
Bubble Craps in Atlantic City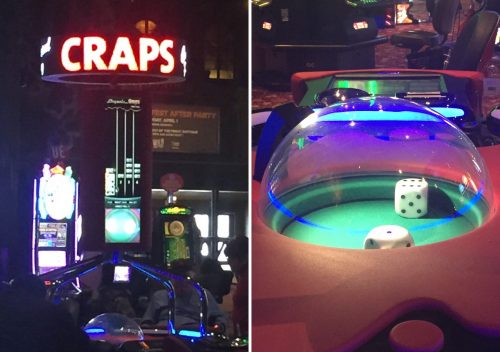 Bubble craps has been around in Las Vegas for many years now. My hope is that you'd see more of a proliferation of the game in Atlantic City. Unfortunately, that hasn't been the case yet, though casinos are always looking for new ways to bring in players, so you may see more of them as time goes on. Currently there is only one place to play bubble craps in Atlantic City: The Wild Wild West Casino.
Unlike the "Shoot to Win" Craps machines that you see in Las Vegas, the bubble craps at Wild Wild West operates a little differently. A shooting player is never designated, for example. Instead, a timer starts after each roll, and you'll have to place your bets before the timer ends. Once the timer expires, the dice will automatically "pop" and roll, with the lucky winners collecting their payouts (hopefully).
Have you ever tried this game in Atlantic City? Let me know in the comments section!