If you've visited AC as much as we have, you've probably noticed the Atlantic City Jitney shuttles at some point and wondered what their purposes is. Some of them seem to be circling around casinos while others have unique nameplates letting you know they're for someone's birthday or bachelor party. Well wonder no more! We're here to let you know exactly what they're for and how to properly utilize them.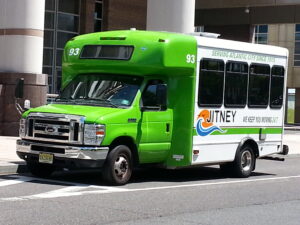 Schedule and Routes
The Jitneys can be a great way to get around to Atlantic City if you know where (and when) to look for them. A full list of routes can be found here on their site, but the main routes of interest for casino goers are as follows:

Main Jitney Route: Travels along the boardwalk casino hotels (Ocean, Resorts, Tropicana, etc.) as well as the Marina (Borgata, Golden Nuggets, etc.).

Route 6: Stays specifically in the Marina, allowing you to jump between the casinos in that area (Borgata, Golden Nugget, Harrah's). This one is particularly helpful because the hotels are an awkward distance apart. They're too close to call an uber for, but too far to walk (And the walking paths are..not well marked).

Getting Tickets
Getting Jitney tickets always seemed to be the hurdle for me, but it doesn't have to be! The process is very straightforward. You can check out your full array of payment options here, but the long and short of it is that you can pay to get on in cash ($2.50). You can also buy tickets in advance but the list of locations is…colorful. Mostly check-cashing places or a deli mart, so not my first choice. You can also use the Jitney app, which I'd recommend even if passengers have had some challenges according to the reviews.