I'll be the first person to tell you that getting too drunk at a casino can end quite badly. That said, having a few drinks to enhance the Atlantic City experience has been a past time of ours and many others for quite a few years now. Being the frugal gambler that I am, I'm always on the lookout for the best value when it comes to Atlantic City happy hours. As a general rule, your best bet for cheap drinks is during the week, when the bars are just happy to have paying customers around. Here are the best chances for cheap drinks that we've found.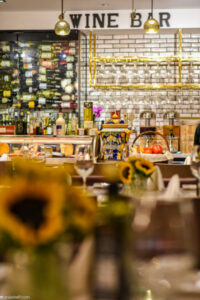 Wine Bar – Borgata
I'll admit that I'm not exactly an expert when it comes to wine. I've had some fine wine on the higher end of the spectrum in my career, but I can't tell you the first thing about what sets it apart. Sommelier or no, however, you just can't beat this Atlantic City happy hour at Wine Bar in The Borgata. This is hands down our number one happy hour spot since it's available every day, even on the weekends!
Happy Hour Details
Hours: 2-6 PM Daily
Pricing: $6 Wine on Tap, $5 Craft Beer, 50% off Appetizers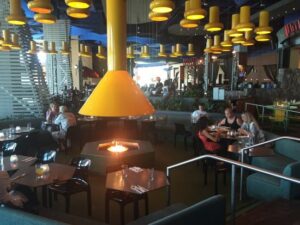 The Continental – Playground Pier
Looking for a classy happy hour in a delicious Stephen Starr restaurant that won't break the bank? Well then you're in luck! We haven't stayed at Caesars recently, but every time we do we make a note to hit up this happy hour. $5 cocktails, $5 beer, and $5 appetizers makes for a lot of great choices. Make a stop on your next go around.
Happy Hour Details
Hours: 4-6PM Sunday-Friday
Pricing: $5 Cocktails, $5 Beer, $5 Appetizers, $5 Desserts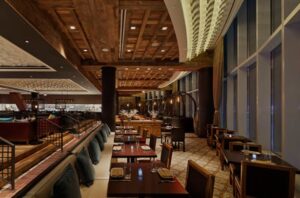 One of the best reasons to do happy hour in Atlantic City is that you can eat and drink at some up-scale establishments on the cheap. Whether you're talking food or table game limits, Ocean isn't known for being the most affordable destination, but Amada's happy hour lets you sample some fine food and cocktails without lighting your wallet on fire.
Happy Hour Details
Hours: 5-7PM Friday, Sunday, and Monday
Pricing: Half Price Tapas and Half Price Drinks