When looking for new table games to try out in Atlantic City, you may want to consider Criss Cross Poker. It's an interesting variant that was introduced to the gambling world in 2014. It's popularity has only grown since then, so it's definitely worth checking out. The game is also readily available in a number of casinos in Atlantic City, and we have a full guide for you pointing out where to play and what to expect for table minimums.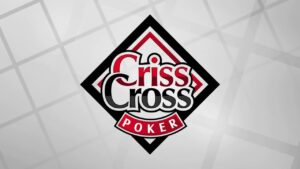 If you're not familiar with how to play Criss Cross Poker, it's easy enough to learn. You can find a full guide on how to play here. Basically, the player receives 2 hands and gets to use 5 community cards to build them out. The cards are placed in a "criss cross" pattern, hence the name.

Where to Play Criss Cross Poker
While the game is becoming increasingly common, here are a list of places that you can currently play:
If I had to choose where to play, I'd pick The Borgata. They have a classy setup over there in the Marina, and you also have a chance to find the mysterious $5 Blackjack table!
Criss Cross Poker Table Minimums
While minimums for all table games have been skewed upwards thanks to COVID-19, I saw most Criss Cross Poker Table Minimums end up around $10 per hand. You'll see this spike to $15-$20 during the pandemic or during peak times, however.