When I first game across a Sigma Derby/Fortune Cup machine in Atlantic City, I was confused. Why on earth would someone want to bet on an electronic field of horses in the hopes of winning money? Despite my reservations, however, I put a few dollars in with a fried of mine and we had a total blast.
What Is Sigma Derby?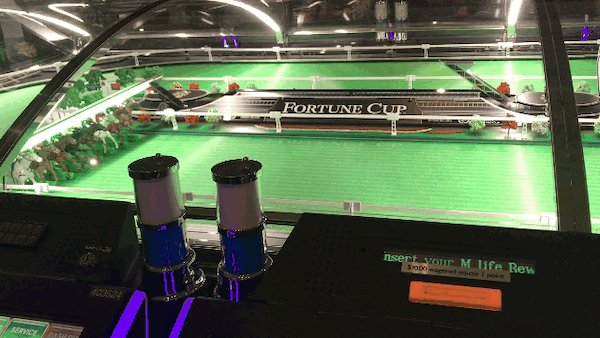 Earn $40 USD and Free Nights At the Borgata With BetMGM's Official Partner: MyVegas
If you're not familiar, Sigma Derby and it's future iterations Fortune Cup and/or Royal Derby, revolves around a large domed machine that contains, for all intents a purposes, a full horse race. Little plastic horses run around the track, and you get to bet on who is going to win, place, etc. just like you would in a real live horse race.
Minimum Bets for Sigma Derby and Fortune Cup
Regardless of the version of the game you're playing, most machines run at pretty low betting minimums. The range that I've seen is somewhere in the realm of $1-$3. I'd imagine that the hope is that you'll bet more than that, but it's an easy game to play on the cheap.
Where to Play Sigma Derby/Fortune Cup in Atlantic City
While these machines have seen brief stints at a number of casinos in Atlantic City, including the Borgata and the Tropicana, just one version of the game appears to remain. You can still play the Royal Derby game at the Wild Wild West casino.
Personally, I would love to see these types of games make a comeback in Atlantic City. Variety is the spice of life, I'm told, and that's especially true of a frugal gambler like myself. I feel that the old formula of "Slots and table games" is going to have to make a change sooner or later, so why not introduce more options for us as players?