We recently finished our first trip to Atlantic City and, much to our surprise, stumbled upon a new game: Roll to Win Craps. This variation combines the elements of a real table and electronic versions of the game (Check them out here). The experience is decidedly different than either version and ultimately serves as a good stepping stone for newer players that may not be comfortable yet with the higher minimums and pressure of a live table. Even as veteran players, we had a total blast with this one.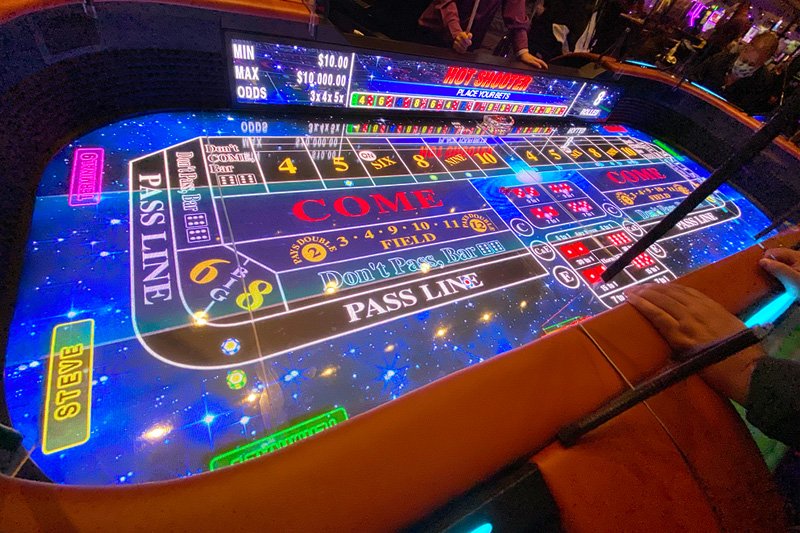 Earn $40 USD and Free Nights At the Borgata With BetMGM's Official Partner: MyVegas
How It Works
For all intents and purposes, Roll to Win Craps plays very closely to the real thing. Each player has a seat at the table, which has one live casino employee (A stickman). The major difference here is that all bets are handled electronically. Each player has their own terminal to place wagers at, which is really helpful if you're just getting started and have no idea how to play. You can brush up on rules, take a look at payouts, and there is virtually no chance that you'll interrupt the flow of gameplay. In short, it's a win-win! If you're curious, you can check out a quick video on how the game works here.
This variant also provides a number of bells and whistles. When you place your bet, you'll see your chips shoot out like a meteor from your terminal to the appropriate spot on the board. If you hit a certain number of points as the shooter, the board will "ignite" and light up so that everyone knows there's a hot hand at play. It adds some spice to a game that's normally viewed as old-school and stodgy.
Where to Play Roll to Win Craps in Atlantic City
Play Online Casino Games (For Free) and earn $50 through MGM's Official MGM Slots App!
I'm genuinely surprised this variant of the game isn't more popular. Maybe it just needs a bit more time to percolate amongst the playerbase, as my wife and I had a blast the last time we went to play in AC! Currently, there is only one casino in Atlantic City that offers Roll to Win Craps: Harrah's Atlantic City, which is on the Marina side. Harrah's isn't our favorite, admittedly, but sometimes it's enough of a swing to get us to stay there JUST because they have this game available.